Northwest Community Bail Fund has been honored and awed by the incredible amount of support that has financed our recent growth and our ability to post bail for more people than ever before. With a 600 percent increase in our funds from 2020 to 2021 we were able to expand our impact significantly as well as build upon initiatives to work toward longer lasting change.
"Over the past year, NCBF has been so gratified by the growth in activists like yourselves that choose to partner with us in striving to reduce pre-trial detention through generous one-time and monthly donations. The trust you've placed in us to fight for your vision is humbling. In the past year we've seen dramatic growth in all of our harm reduction programs from quick responses [for] freedom through bail assistance to the research and advocacy needed to make space for permanent changes to the criminal-legal structures. During this national moment of re-evaluation of longstanding systemic defaults, we are positioned to highlight the way the arrest/cash bail cycles are robbing our vulnerable communities of generational wealth to the benefit of bloated civic institutions like jails and policing, and we firmly stand for the reversal of this flow of wealth, back to communities and taxpayers." Becky Errera, NCBF Executive Director
Why donate to a bail fund?
Our goal is to see the end of cash bail, pre-trial incarceration and ultimately the end of mass incarceration and the prison industrial complex. But in the meantime, in order to prevent the harm and suffering induced by our current system on individuals in our community, we work every day to post bail for those who can't afford it so they too have the same opportunities as those who can pay for their freedom- freedom to maintain their lives and positions in their communities, properly build their case to defend themselves and to avoid the pressures from the system to accept plea deals, which will create or add to a criminal history that has lasting consequences for the marginalized. 94 percent of state level cases and 97 percent of federal level cases result in plea bargains. Individuals may be tempted to take plea deals due to a variety of factors including fear, desperation, and confusion.
Growing funds also expand our impact. Not only were we able to free more people in the last year, we were also able to post bail for a wider variety of charges, as well as operate in more municipalities. Due to the subjectivity of the current system—from the charges the prosecutor decides to pursue to the judge who sets the bail—equal crimes do not mean equal bail amounts. It depends on the state, the county, the judge, the time of day, the person accused of the crime, and other factors. With the additional funds, we were able to free people in counties infamous for higher bails that were previously unaffordable.  
How does a donation to a bail fund work?
Donating to a bail fund is different than most organizations because every donation has the opportunity to recycle. Donations made to a bail fund can return back into the fund after a person's release and be used again to sponsor more and more people's freedom.
With the majority of our funds returning to us, we can make sure donations go straight back to freeing more people. The system never stops, so neither do we.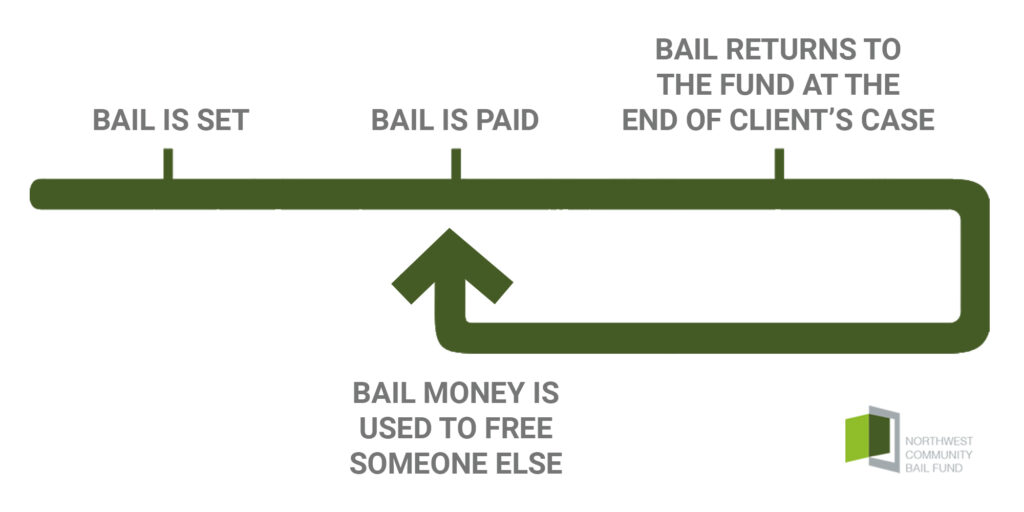 How do funds become limited?
COVID-19 has impacted all aspects of society, including the criminal legal system. One result is that due to the closure of courts and the inability to have in-person meetings, the criminal-legal system is experiencing a growing backlog that prevents the courts from hearing cases in a timely manner. 

An article from the Seattle Times reads: "Some worry that, as the weeks and cases pile up, the pandemic-caused delays threaten to turn one of our most revered legal maxims into something more like an accusation: Justice delayed is justice denied. In many cases — despite efforts to ease jail populations — there are citizens accused of crimes, innocent until proven guilty, who wait in custody, unsure when their case will ever be heard." It also states that, according to the King County Department of Adult and Juvenile Detention, just over 90 percent of the people in King County's two jails are being held pre-trial.
The way the system is built now, bail is returned after all court hearings have been attended. People are experiencing significant wait times in their cases, and NCBF is doing what it can to make sure individuals are not experiencing this wait time in a cage. But due to the backlog, bail posted by local bail funds is tied up in the court systems and is not being returned. Slow courts does not mean that arrests have slowed, and more people in our community have turned to us for help. This has created a wait list of people who need assistance.
"Unfortunately, intervening in individual instances of unnecessary detention on a daily basis is costly, and in order to keep doing so while courts are backlogged, we must ask for continued support. We look hopefully to a day in the near future when court cases from 2019 and 2020 are no longer on hold due to the global pandemic, and ultimately, to the day when pre-trial detention in our region, state, and nation is no longer the norm." Becky Errera, NCBF Executive Director
Requests for bail assistance from Northwest Community Bail Fund have surged and Northwest Community Bail Fund has joined GiveBIG fundraising May 4 and 5 in a fundraising effort to continue to help people trapped by the criminal legal system in our region. People are never content to sit out their pre-trial weeks and months in a jail cell, but with courts postponed those stays stretched to months. We've met this challenge by streamlining our processes and training dozens of new volunteers to help us secure freedom for as many folks as we can. Even so, the key necessity for paying bail is cash, and your donation will have a direct impact. Today, 97 percent of our donations are used directly for bail.
We could not have achieved our successes so far without the help of donations from people like you, and we continue to express our gratitude for our community's support. Help us continue our fight and to keep people from waiting behind bars by donating now and by sharing our links and emails with your loved ones and community.
In gratitude and solidarity,
Northwest Community Bail Fund
Last updated: April 26, 2022